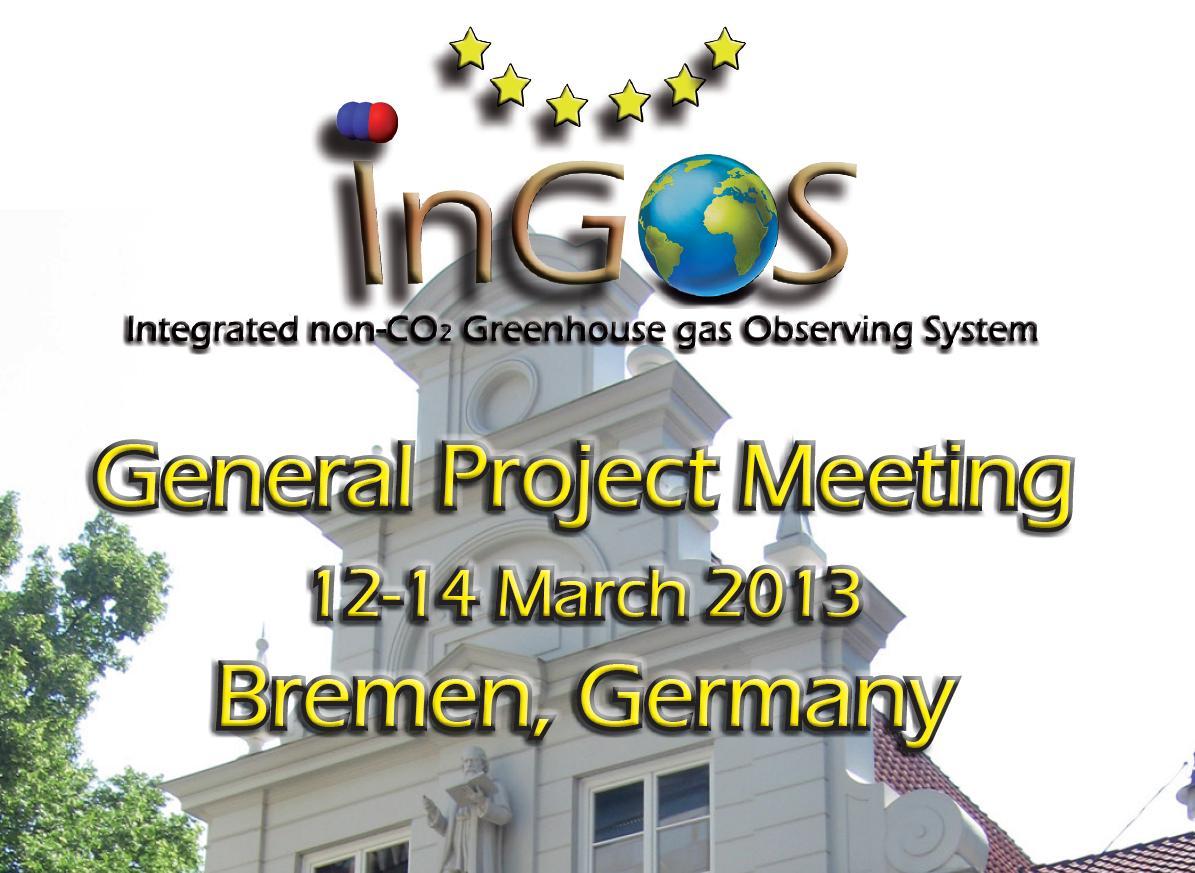 The deadline for registration was 7 February. We have registered 92 participants!
Registration for the meeting is closed. We will only accept update info from registered participants.
The 2013 InGOS annual meeting and General Assembly will be held in Bremen, Germany, from 12-14 March. There will be no conference fee!
Venue is 'Haus der Wissenschaft' in Bremen (Sandstrasse 4/5).  We made a block reservation for a total of 60 hotel rooms at 3 hotels for the period 12-14 March. Cost for the rooms vary (see below), to be paid to the hotel when checking out.
You do need to book the hotel yourself. Due to the special arrangements, please do this at your earliest convenience. Mention 'InGOS' when making the reservation! 
During the meeting we will have two sets of very interesting scientific lectures:
Plenary session 1
12/3 13:30-15:00
Plenary session 2
14/3 13:30-15:30
Prebooked Hotels
Ramada Überseehotel Bremen (20 rooms blocked until 3. Feb, price: 90 EUR including breakfast)
www.ramada-bremen.de/
Wachtstraße 27, D-28195 Bremen
Phone: +49 (0)421 3601 0
Fax: +49 (0)421 3601 555
Email: reservierung@ramada-bremen.de
Hilton Bremen Hotel (20 rooms blocked until 12. Feb, price: 109 EUR including breakfast)
http://www.hilton.de/bremen
Böttcherstraße 2, D-28195 Bremen
Phone: +49 (0)421 3696 0
Fax: +49 (0)421 3696 969
Email: reservations.bremen@hilton.com
Star Inn Hotel Bremen Columbus (20 rooms blocked until 9. Feb, price: 72 EUR including breakfast)
http://www.starinnhotels.com/de/bremen-columbus/index.php
Bahnhofsplatz 5-7, D-28195 Bremen
Phone: +49 421 30120
Fax: +49 421 30 12 123
Email:bremen.columbus@starinnhotels.com
Travel to the meeting location is relatively easy; have a look at this pdf-document for details about the location and how to get there. The document also contains the locations of the hotels mentioned here.
The meeting will start at Tuesday March 12 with registration starting around 11:00 and the first plenary session starting at 13:30 and will continue until Thursday March 14 17:00. The meeting dinner will be at Wednesday March 13. Following the meeting the Advisory Board will meet with the Executive board.
Please be aware that relevant pre-meeting events might take place on March 11 at the same or a nearby location. At this moment NA2 and NA3 will have a joint meeting on March 11. Further details will follow soon, please contact the relevant WP-leader(s) for more information.
The preliminary agenda for the Annual Meeting is given below.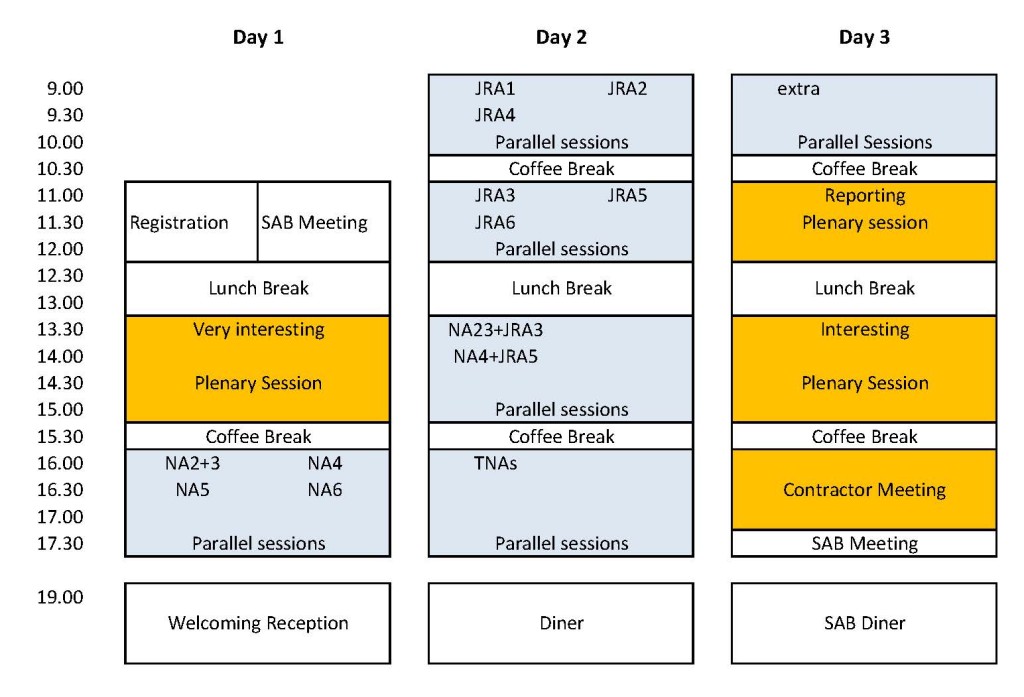 We have space for only 1-2 of presentations in the plenary sessions next to the invited speakers and the presentations from the Exec Board. In the parallel sessions WP dedicated short presentations are welcome, please coordinate this with the appropriate WP leader. Please use this template to submit short abstract(s) of your presentation(s) and use the registration form to upload your abstract.
There will be room for poster presentations. Especially young scientists are encouraged to present their work through a poster. Please indicate in the registration form the title of your poster if you'd like to present one.
Please use the registration form to modify your registration for the meeting at the meeting registration page