The European Infrastructure Network InGOS (Integrated non-CO2 Greenhouse gas Observing System) aims to optimise and standardise flux measurement systems for non-CO2 greenhouse gases. To support this activity, the Centre for Ecology and Hydrology (CEH) in Edinburgh (UK) is hosting a major intercomparison campaign for the measurement of micrometeorological fluxes of N2O on a managed grassland for the period 3rd to 28th June 2013.
Objectives:
To verify a variety of N2O flux measurement setups using eddy covariance, REA or gradient method on the same field, for a duration of 4 weeks. All instruments will be running in parallel for the first few days measuring background conditions, and continue for a three week period following the fertilisation event.  All system will be calibrated together with the same gas standards. There will be the opportunity to interface various analysers with a common anemometer / data acquisition system or to test independent complete systems against a reference. Data analysis will be performed individually with own methodology and in parallel following a common protocol.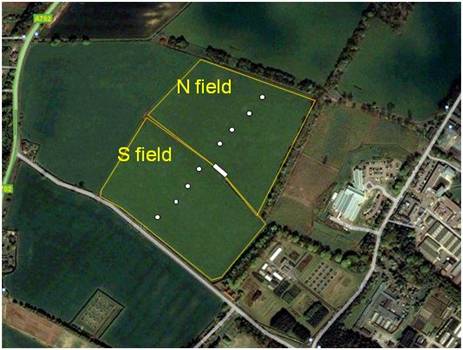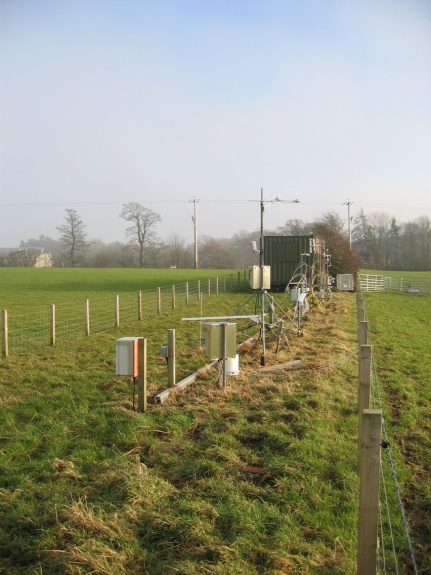 Field Site
The Easter Bush measurement site is located in a rural area 10 km south of Edinburgh, Scotland UK (3012'W, 55o52'N, 190 m a.s.l.). The site is situated on the border between two intensively-managed grassland fields of approximately 5 ha each. A full meteorological station is installed at the field site providing data for wind speed and direction, air humidity, solar radiation, soil T and moisture, atmospheric pressure, PAR, rainfall etc. The organic rich soil has consistently resulted in high N2O emission factors from fertiliser application in previous studies (Di Marco et al., 2004; Flechard et al., 2009; Jones et al., 2012).
 Logistics
We will be providing mains power, equipment enclosures and ultrasonic anemometer, as well as a joint data logging system and broadband connection in the field. Desk space and WIFI connection will be available at the CEH Institute, a 5 minute walk from the site.
Participation:
Please register interest in participating in the campaign with Eiko Nemitz and Daniela Famulari (InGOSN2O@ceh.ac.uk; +44 131 4458523). Transnational access (TNA) funds to cover travel, subsistence and shipment costs can be applied for by eligible parties via the InGOS website (see https://www.ingos-infrastructure.eu/?page_id=509 ) after discussion with the organisers.